Report by Alistair Robb, Dundee captain
Much of the talk beforehand centered around whether a stronger than normal Scottish field would usurp a weakened Dundee team (illness, injury and GBu23 commitments at Siege of Limerick meant they were missing up to 6 first team studs for the weekend, including 2015 callahan candidate Luke "Chizzle" Wood). Glasgow, Heriot-Watt, Strathclyde and St Andrews were the most probable contenders though the arrival of 40mph winds definitely threw a spanner in the works.
Dundee cruised through to the semi finals comfortably disposing of an Edinburgh (a team trying to establish themselves as a more "balanced" group than in previous years), Stirling Blaze, and their own second team in the 1v8 quarter final.
Heriot-Watt mounted a monumental comeback against Strathclyde (5-1 down to win 7-6, with Strathclyde even dropping in the endzone on universe), before obliterating Ro Sham Bo in their all-Edinburgh quarter final derby 13-4 to make the top 4.
Glasgow, using the weekend to develop into a new era of "less hucking and more Tika-Taka", managed to avoid embarrassment against St Andrews 2 before pipping a wily Stirling Blaze team on universe point to secure a top four place.
St Andrews, noting the competition was "as high as it ever had been", drew the toughest quarter against a deep Strathclyde outfit. It was billed as "a game for all the ages" and the stakes were indeed high; the victors would earn a guaranteed division 1 spot whereas the losers would have to emerge top of the 5 to 8 bracket to claim the last remaining spot. Despite their coach being almost 5,000 miles away at Beach Worlds the Flatballers came away with the 10-8 victory setting up a meeting with Tayside rivals Dundee in the 1v4.
As the skies darkened, the wind howled and the 40 minute universe point womens final came to a close, the mens semi finals were thus; Dundee vs St Andrews, Heriot-Watt vs Glasgow.
Heriot-Watt came out "sharper and faster in all areas" against a Glasgow team still recovering from their epic quarter final. A close first half was followed by Heriot-Watt pulling away to a comfortable 10-4 win.
A similar story took place on the adjacent pitch; Flatball traded with Dundee for the first few points before the Dundee boys turned on the pressure forcing multiple high stall turnovers. Second year student Mihael "Jimmy Mihael" Dimitrov sent the sizeable crowd into a frenzy with a string of highlight reel blocks and scores, with even the most passionate of St Andrews fans noting that "this guy is actually really good". Final score: 14-6 to Dundee.
This was Heriot-Watt's debut appearance in a regionals final match and nerves perhaps prevailed; the Dundee team, despite star cutter Pierre McCarthy having to withdraw after the first point meaning there were just 8 fit players on the team, broke four times in a row for a commanding lead. The visibly frustrated Heriot-Watt team called timeout and forced the game back to within one point. However, Dundee once again were able to amp up the pressure, tightening any first half holes in their 1-2-3-1 zone, causing Heriot all sorts of problems in the extreme crosswind. A late break rally from a Dundee – orchestrated by handler extraordinaire Thomas "Butters" Butterwith – secured the 10-6 win and Dundee's fourth Scottish outdoor title in a row.
Further down the ranks St Andrews upset Glasgow with a last minute "speculative upwind punt" in the 3v4, Strathclyde bettered Edinburgh in a scrappy division 1 game-to-go and Stirling Blaze flattened a Dundee 2 team who were "dead on their feet" to take the second and final spot to division two nationals.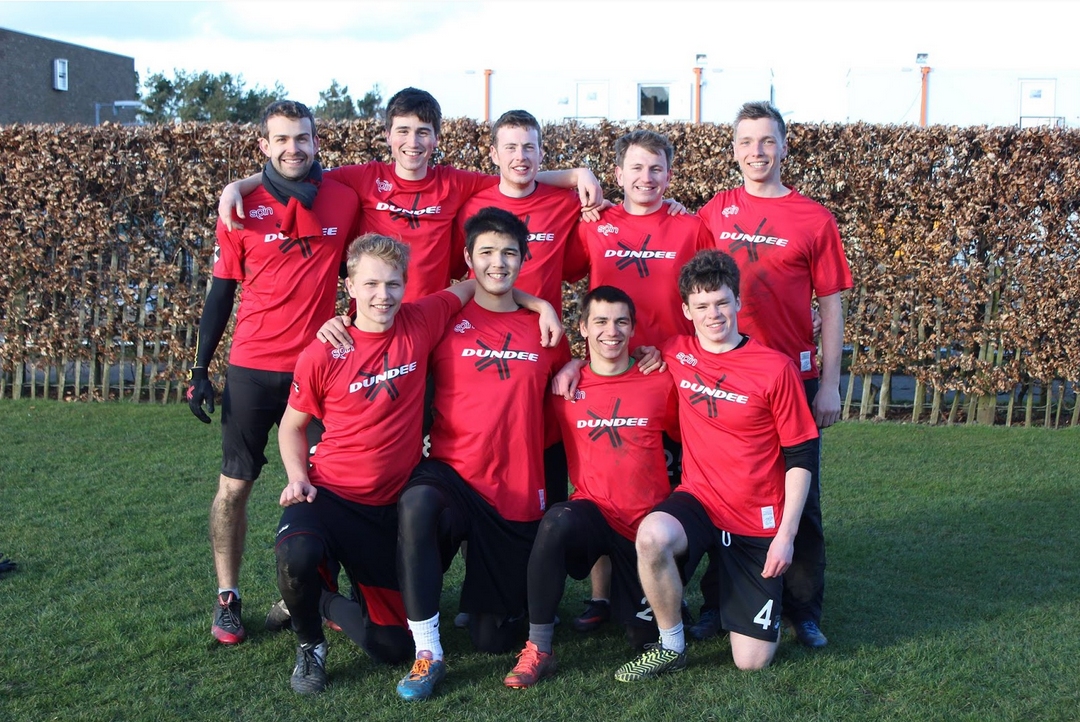 Scottish Champions
Back row l-r: Pierre McCarthy, Nathan Allen, Thomas Butterwith, Andy Mcilwrath, Alistair Robb
Front row l-r: Gerdas Žeimys, Sean Sproule, Mihael Dimitrov, Craig Noteman

Report by Alistair Robb, Dundee captain
https://www.pushpass.co.uk/wp-content/uploads/2016/04/pushpass-logo-fixed1-1030x485.png
0
0
felixshardlow
https://www.pushpass.co.uk/wp-content/uploads/2016/04/pushpass-logo-fixed1-1030x485.png
felixshardlow
2015-03-10 17:25:07
2015-03-10 17:25:07
Scottish Uni Regionals Report + Videos